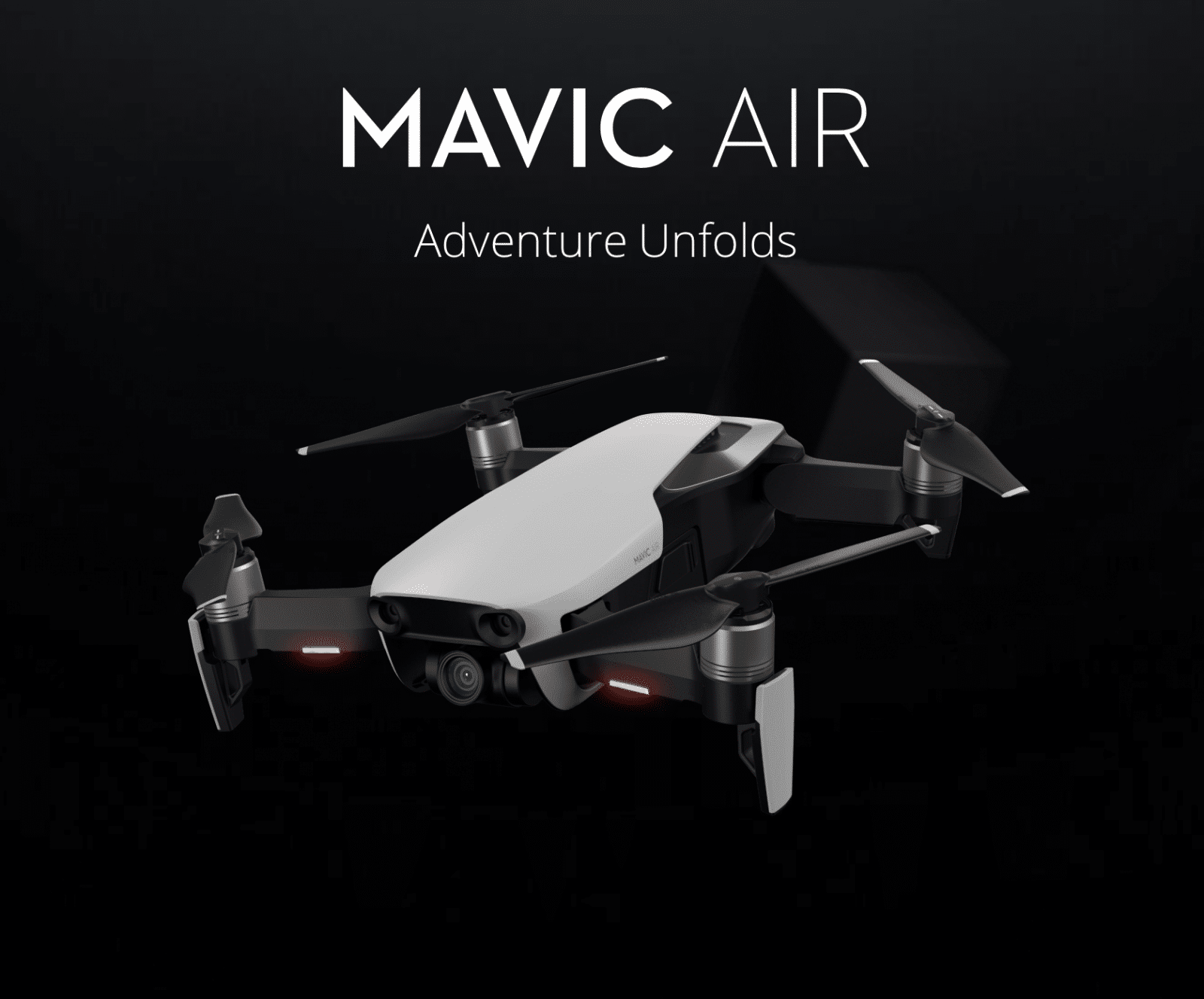 Well the "Adventure has Unfolded" as the Mavic Air is unveiled as an ultraportable drone that stretches the boundaries of what's possible for a drone of this size.
The Massive hype and secrecy around this DJI Mavic Air product launch last week, on Tuesday in New York was extraordinary, as we wrote last week.
Pictures and specs of the Mavic Air were leaked 24 hours before, and it is fair to say the drone and tech press response has been decidedly lukewarm.
It has been called a Spark 2 by a few commentators, slotting in between the company's cheapest drone – the Spark and its most popular model – the Mavic Pro. DJI have lowered the Spark's price in the US by $100 to $399.
Normally DJI announce a new drone and the public pre-order, pay and wait up two months for delivery. This time with the Mavic Air, it goes on sale next week on January 28th with immediate delivery.
The DJI Mavic Air is a small foldable drone with a big spec thanks to its powerful 4K video resolution, 12MP HDR still photos, and innovative foldable design. It's cheaper, but still a big investment for a gadget with 21-minute battery life.
The maximum battery life fits between the Mavic Pro at 27 mins and the Spark at 16 mins. But all drone pilots know you want to be landing with 15-20% life left so this reduces your actual flying time for the Mavic Air for one battery at 15 mins.
There are three ways to fly the Mavic Air. You can use the dedicated remote controller, your smartphone, or both together. For the other two options, the Mavic Air connects to your smartphone via DJI GO 4.
DJI say the Mavic Air is easy to fly thanks to improved object avoidance systems and gesture controls, giving this drone more pro-consumer appeal. The Mavic Air comes in three colours: white, black and red.
Let's take a look at the detailed spec:
The camera shoots 4K video and 12-megapixel stills, and it can take 32-megapixel panoramas. it offers a 1/2.3-inch camera sensor with 12 MP photo resolution and 4K video at 30 fps.
The camera is mounted on a newly designed, three-axis stabilizing gimbal with the camera shooting up to 100 Mbps of data, which is faster than the 60 Mbps of the Mavic Pro.
impressive small size while hiding the antennas in the landing gear, giving the drone a flight range of 2.4 miles.
Top speed of 42 miles per hour, slightly faster than the Mavic Pro, and 11 mph faster than the Spark.
So another new innovative development for aerial photography.
Here is the CNET video from the launch:
Roy Horton ins a Drone Photographer who writes about drone photography for Drone Photography Services.